Eid Ul Fitr 2015: Eid-al-Fitr  is the first day of the Islamic month of Shawwal. It marks the end of Ramadan, which is a month of fasting and prayer. Many Muslims attend communal prayers, listen to a khutba (sermon) and give zakat al-fitr (charity in the form of food) during Eid al-Fitr.
The first Eid was celebrated in 624CE by the Prophet Muhammad with his friends and relatives after victory of the BATTLE OF JANG-E-BADAR to defeat of the Muccans.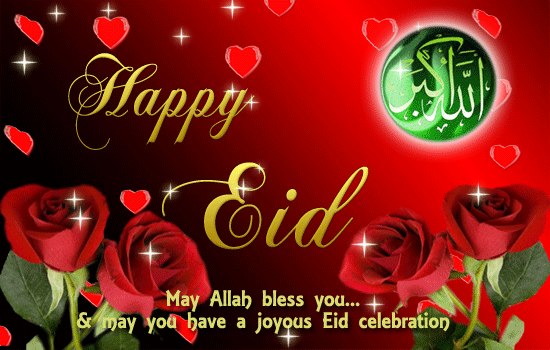 The Eid Ul Fitr traditions include wearing new clothes, offering prayers at the mosque, eating delicious food to mark the end of the month – long fast and wishing neighbors, friends, family and well wisher  with "EID MUBARAK".
On the Eid-Ul-Fitr festival Muslims people used to send Eid Card and SMS to each others. Hear added some special SMS and card for you. Just download and sent it.
♦ No greeting card to give …………..
No sweet flowers to send……………..
No cute graphics to forward…………..
Just a loving heart wishing you.
HAPPY EID MUBARAK
♦ Earth can forget rotating,
Bird can forget flying,
Candle can forget melting,
Heart can forget beating, but
I'll never forget to wish You "Happy Eid"
♦ May Allah flood your life
With happiness on this occasion,
U'r heart with love,
U'r soul with spiritual,
U'r mind with wisdom,
wishing u a very
Happy Eid Mubark
♦ Sending warm wishes
across the miles…
Just to let you know
how much you are missed on
EID Day
♦ Happy EID-Mubarak to all of you
A Wonderful One..!!
To Help Make Your Eid
Friendship And Fun
Light Hearted Moments Of
Bright, Happy Things
Warm,Happy Hours And
That This Eid Day Brings
♦ A time for joy,
a time for togetherness,
a time to remember my blessings..
For me… it's you!
May Allah Bless you &
Give u all the joy u bring to my life!
♦ Look Outside
Its so pleasant!
Sun Smiling For you
Trees Dancing for you
Birds singing for you
Because I requested them All to wish You
**..*EID MUBARAK*..**
♦ Before the Golden Sun Rise,
let me decorate each of the Rays
with Wishes of Success,
prosperous and Happiness
4 u and 4 ur Family.
Happy Eid Mubarak.
♦ I wish a wish for u.
The wish i wish for few.
The wish i wish for u is that
your all wishes come true
so keep on wishing
as my all wishes are with you.
**..*EID MUBARAK*..**
♦ Eider Shuveccha janai tomake..
Onek beshi khushi gire rakhuk tomake..
Sob aponjoner maya matie rakhuk tomake..
But jokhon EIDI milbe please sudu soron korio amake.
♦ EID mane Khusi, Eid mane Aanondo,
EID aase vulia dita sokol Bivad Dondo
EID mane vule jawa joto Dukkho Voi
EIDer motoi tmr Jibonta houq Diptimoy.
**..*EID MUBARAK*..**
♦ Maaaa ami aj bohu dure,
Babaa tomay khub mone pore.
Salam ditam Eidi nitam,
Notum Jama gae ditam.
Vablei sudhu kanna pay,
Monta dukher sagore haray.
Onek mone porche tomader Ammu Abbu.
♦ As Allah waters HIS Creation,
May HE also sprinkle HIS wondrous
blessings over you and your beloved ones.
(Aameen).
**..*EID MUBARAK*..**
♦ May on this EID
The Plate of your life is filled
With juicy Kababs & Tikkas topped
With Chatni of Happiness and
Covered with Salad of Love.
**..*EID MUBARAK*..**
♦ Je din dekhbo Eid er chad.
Khushi mone katabo rat.
Notun saje sajabo aj.
Aj holo Eid er din.
Anonde katabo sara din. . .!
♦ Eid er dawat dilam bondhu,,,
Asbe amar bari…
Onek kotha jome ace,,,
Bolbo 2may ami…
Na asle 2mar sathe bolbo na r kotha,,,
Kono din pabe na 2me amar dekha…!
♦ Tumi hasikhusi theko, jemon hasi thake fule,
Dunier sob dukkho jak tomay vule,
Melo du hat, uro akashe, hoye jao aj pakhi,
Aj moder khusir Eid ogo amar Sokhi…
♦ Hope Love and Laugher,
warmth, wishes, joy and
a bouquet of Eid wishes, jubilations,
become a part of your Eid and Your Life.
Have a Happy Eid Mubarak.
♦ I always wish you
Happy Days
And the hope that
you 'll have many
But still i would like this
Special Day
To be your best of any!..
Eid Mubarak
♦ May this year's Eid give you,
All the happiness and,
Joy of this world and,
Hope that the blessing,
Of the AL-Mighty be with you,
**..*EID MUBARAK*..**
♦ We will eat spicy chicken,
and mouthwatering pakoras,
I'll call my neighbours,
and friends on the street,
may the peace of Allah,
and joy of Eid,
be with everyone.
Eid Mumarak
♦ I wish a wish for u.
The wish i wish for few.
The wish i wish for u is that
your all wishes come true
so keep on wishing
as my all wishes are with you.
Eid Mubarak
♦ No shadows to depress u,
Only joys to surround u,
Allah himself to bless u,
These r my wishes for u,
Today, tomorrow, and every day….
**..*EID MUBARAK*..**
THANK YOU FOR CONNECTING WITH US